Graphic design can be a very lucrative career. A big part of that appeal is that you can be a graphic designer anywhere in the world and, if you choose, be your own boss.
If you're considering a career in graphic design, you might find yourself asking questions like:
Can I do graphic design without a degree?
What qualifications do I need to be a graphic designer?
Is it better to have a degree in graphic design?
The answer to the first question is no. You don't need a degree to be a graphic designer, nor do you need any specific qualifications. All you need is a computer, graphic design software, and the self-discipline to learn graphic design principles. From there, it's all practice, projects, and building a portfolio that impresses clients and employers.
Interested in learning more about becoming a graphic designer without a degree? Read on to learn how you can teach yourself graphic design and launch a successful career from home.
Do I Need a Degree to Become a Graphic Designer?
Unlike certain professions, like accounting and nursing, a degree isn't required to be a graphic designer. There's no governing board that issues graphic design licenses or certification you need to maintain by completing a set of professional development hours each year.
But, that doesn't mean a graphic design degree can't help your career:
In school, you learn the design and technical skills you'll use as a professional designer while learning from experienced professors. In a school environment, you're also surrounded by other design students, which provides the opportunity to grow your professional network.
However:
There are some drawbacks to going to college for graphic design. You can earn either a two-year or four-year graphic design degree, both of which mean spending years outside the workforce, living off savings or student loans. In many cases, college also requires you to take classes that aren't related to your major, which means spending thousands of dollars on courses that have nothing to do with your future design career.
Is it better to have a degree in graphic design? Not necessarily.
The best way to figure out whether you should pursue a graphic design degree is to determine what works best for you. For a lot of designers, self-taught is a faster path that offers more control over what they learn and how they learn it.
Graphic Design Degrees Are Expensive and Time-Consuming
It's no secret that a graphic design degree is expensive. The cost varies wildly too—depending on the type of school you attend and the type of degree you pursue, a graphic design degree can cost up to $75,000.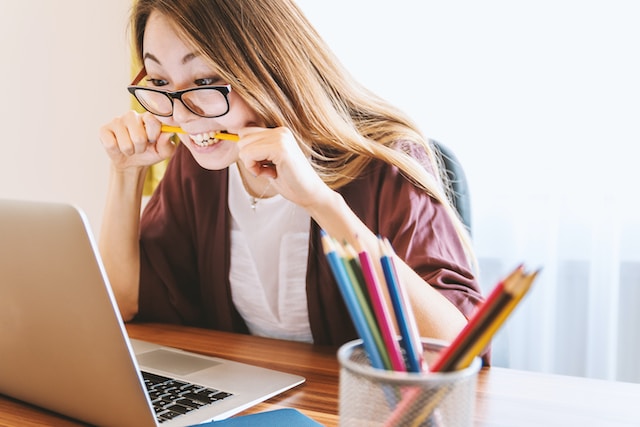 Photo by JESHOOTS.COM
It's not uncommon to take out student loans to attend school. Remember, a loan costs more than the amount of money you borrow—currently, the US federal rate for undergraduate student loans is 5.5%. Once your repayment period begins, that interest compounds, leaving you with a large bill for somebody just starting their career.
Instead of taking out loans, some students choose to work while attending school. This can mean only taking classes part-time, which means spending longer in school. It can also mean feeling stressed out and stretched thin as you balance a class schedule, a work schedule and try to fit in some time for yourself between them.
That's not to say it can't be done, but it's a difficult task for even the most motivated student.
There Are Many Great Resources Out There
One of the great things about pursuing graphic design is that there are lots of self-study resources available. This isn't the case for all fields.
Going back to our examples from earlier, certain professions require degrees because they require skills you can only learn in school. Case in point: nursing. While the requirements for a nursing license vary from state to state and country to country, a student generally needs to complete hands-on, supervised clinical hours in healthcare settings in order to become a licensed nurse. With graphic design, all you need to get hands-on experience is a computer.
There are tons of great resources available online. While some cost money, others are completely free. Check out resources like Coursera, LinkedIn Learning, Youtube and Self-Made Designer. Through these resources, you can learn just about anything you need to know about graphic design principles, techniques, programs and if your goal is to be a freelance designer, how to set up and run a small business.
With these resources, you can go at your own pace, so there's no risk of failing a class or having to schedule your life around midterms or final exams. Take multiple courses or just one at a time; when you teach yourself graphic design, you have complete control over your education.
Degrees Require Courses That Are Not on Graphic Design
To complete a graphic design degree, you nearly always have to take courses from other academic areas as well. Usually, this includes English, Math, Science and Social Science courses. You might also be required to take electives that have nothing to do with graphic design.
You can learn a lot in these courses, but if your only goal is to learn how to be a graphic designer, they can feel like an expensive waste of your time. When you teach yourself how to be a graphic designer, you have complete control over your your learning.
How to Become a Graphic Designer Without a Degree
If your goal is to become a graphic designer without a degree, you need to do the following:
Learn the Principles of Design
This is the most important step toward becoming a professional graphic designer. It's also true whether you pursue a graphic design degree or not. After all, you can't work as a graphic designer if you aren't well-versed in the principles of design, such as:
Unity
Totality
Color theory
Space
Dominance
Hierarchy
Balance
Study these principles closely and challenge yourself to design according to them. If you have a graphic design mentor or community, ask others for feedback on your designs.
Complete Projects
You can be an expert on design principles, but if you aren't completing projects, you aren't doing graphic design! Making designing graphics a regular habit, as this is a non-negotiable part of building your skill set.
Build Your Portfolio
Your portfolio is your collection of completed projects.
As you finish each project, add it to your portfolio. This can be a folder in Google Drive or on your hard drive, or it can be a gallery hosted on your own website or social media pages.
Your portfolio is your body of work, and when you start connecting with potential clients, it's how you'll showcase your skill set.
How Long Does It Take To Learn Graphic Design Without a Degree?
There really isn't a concise answer to this question. Graphic design, like every other type of design, is something a passionate designer can study for the rest of their life.
That said, you're probably wondering how long it takes to learn graphic design well enough to start making money with it. Generally, if you're focused on learning, you can build a strong graphic design skill set in a few months.
As you plan your course of self-study, think about why you're learning graphic design.
Is your goal to:
Start a new career?
Launch a small business?
Develop a side hustle you can do in addition to your main job?
Do pro bono graphic design projects for passion projects and nonprofits you care about?
Explore a creative outlet?
Simply learn something new?
There's no "right" answer to the question above. You might even have more than one goal in mind. No matter what your goals are, building your skill set takes time, dedication and practice.
Carve out time every day to watch tutorials and practice graphic design. As you recognize your skills getting stronger, challenge yourself to tackle more complex design projects and experiment with new styles.
When you start marketing your services to clients or applying to graphic design jobs, your graphic design experience will be what lands you paying gigs. This is true whether you have a degree or not—so make it a priority to build a solid portfolio and always approach your work with a growth mindset.
Build a Solid Foundation for Your Graphic Design Career
Many creative professionals are self-taught. For a lot of designers, the challenge with this isn't learning on your own…it's finding the right resources to build a solid foundation for a stable career in design.
A successful career in graphic design requires more than just creativity. It requires technical skills, marketing skills, an understanding of design principles, an understanding of effective branding, and strong communication skills.
These are among the topics we cover on Self-Made Designer. While we recognize the value a graphic design degree can provide, we also know a degree isn't a deal breaker in this field.
However:
To be a successful graphic designer, an education is absolutely necessary. Learn the core tenets of graphic design and working in this field through Self-Made Designer and launch the creative career of your dreams.
MY NEW BOOK
The Accelerated Graphic Designer
A Proven Shortcut for Learning Graphic Design Once and For All
Stop wasting time learning unnecessary skills from random tutorials and start learning what matters the most in design.