One of the best ways I know for learning graphic design is to look at other people's work and get inspired to create your own designs.
You see, looking at other people's work and getting inspired by the styles you like is an excellent way to learn because you begin to develop what I call "visual grammar," or the visual language that you will be applying and combining for creating your own designs.
In fact:
Developing a visual vocabulary is part of the process I teach for learning graphic design, especially if you want to learn graphic design faster.
These are my top graphic design websites for learning and inspiration:
Savee
Creative Boom
This is Grey
Awwwards
Cargo Site
Klikkenthéke
Behance
Dribbble
The Essential Design
MICA
BP & O Design Blog
Women of Graphic Design
MY NEW BOOK
The Accelerated Graphic Designer
A Proven Shortcut for Learning Graphic Design Once and For All
Stop wasting time learning unnecessary skills from random tutorials and start learning what matters the most in design.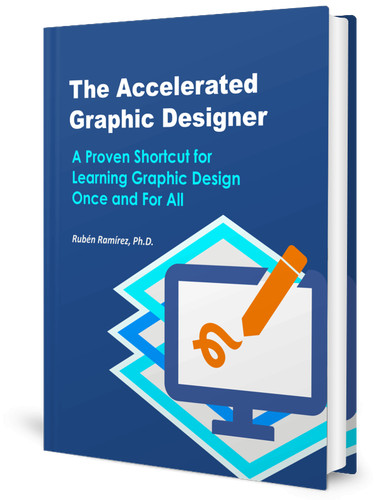 Discover new designers, create boards, and even upload your own work. Just imagine a Pinterest for every kind of designer, but customizable to your taste and style.
With an ease that feels intuitive, you can navigate thousands of curated designs from all around the globe that will inspire you for your next project. Even if you're not working on something at the moment, you can easily spend hours building a collection for future projects.
For only $4 a month, Savee offers an affordable premium subscription where you can unlock more features like the ability to create private boards, early access to new features, and build collaborative boards.
What makes it unique:
Its ease of use
Highly customizable boards
Since its launch in 2009, this platform has grown exponentially. It even won the Best Design Media Award in the international A' Design Award & Competition in 2018.
Through the platform, you can discover artists, designers, illustrators, gamers, photographers, filmmakers, animators, and more. One of its stand-out features is the resource tab. Here you'll find a mix of great tips for your career and human-centric stories to keep you inspired. You can tell this blog is meticulously curated by the quality of designs, podcasts, content and interviews.

What makes it unique:
News section where you can discover industry trends
Inspiration tab where you can see the work of emerging and established artists
Podcast, tips, and resources
An insightful and elegantly designed blog run by award-winning designer, Robert Daniel. Find new brand works, digital works, and graphic design just for the fun of it. Get a feel of the industry through different styles and mediums that can provoke bold work.
What makes it unique:
The photographers, illustrators, and foundries database
Designer insights
Keynote-style blog posts like this one
Awwwards is one of those websites where you can get inspired by designers and studios showcasing their best work. After all, it is a professional web design and development competition body. Here, you can navigate, promote, and even submit creative projects for unique and creative websites anyone will love.
The best year-round submissions are awarded at the Awwwards conference and prize-giving ceremony.
What makes it unique:
The site of the day award
The categories tab, where you can browse different elements like menu inspiration, best navigation, transitions, and more
The Academy, here you can enroll in online courses, workshops, and masterclasses by industry-leading digital designers
This is a site-building platform, but consider it as a directory for fonts, designers, studios, projects, and templates for sale. Just the index alone can be an indispensable source of inspiration.
What makes it unique:
The template gallery with tons of examples
The font collection
The "ongoing index of the best work by their users" categorized
This web design catalog is a side project of the design practice ateliér Division Binaural. An excellent source for designers, developers, and HTML devotees with an inclination for modern and simple web design.
This Bauhaus-inspired source of inspiration is updated regularly (almost daily) with carefully hand-picked web designs with a preference for modernism and simplicity.
What makes it unique:
The overall website design
The tag system
It is updated nearly daily
We couldn't keep this one off the list. With an average of 35 million monthly visits, you can get a sense of the quality and volume of works displayed here. Besides that, this extensive collection is beautifully organized by field, color, location, schools, and more.
The real challenge with this one is to not get analysis paralysis.

What makes it unique:
The navigation and tagging system
The mood boards tab
The quantity of works displayed
Two words: Inspiration categorized. You can easily spend hours browsing the portfolio work of millions of designers and agencies around the world. You can discover graphic design, web design, illustration, photography, and other creative fields that are uniquely organized. Just take a look at the creative way Dribbble uses the Inspiration tab, where you can flip through categories like:
New & Note-Worthy
Playoffs: where designer's works are "riffing on"
Blog with interviews and tutorials
What makes it unique:
How well organized and categorized the site is
The Inspiration tab where you can find trending work
The ability to post a job and hire freelancers
A simple, curated digital archive of contemporary design primarily focused on brand identity, graphic design, digital design, web design, and editorial design.
You can almost feel a creative rush of elegant inspiration just on the home page. Click on any of the works presented to find more details like the credits, categories, industries, and fonts.
What makes it unique:
It's updated almost daily
The index and directory tabs make it seamless to find designers and studios by region
The quality over quantity approach
See and read the stories behind each design. In this academic blog, you can explore the stories of the students of the Maryland Institute College of Art (MICA) and their Architectural Design/Environmental Design, Game Design, Graphic Design, Interactive Arts, and Product Design program works.
What makes it unique:
Human-centric stories
The Find Art + Articles tab where you can discover hundreds of creatives
A less commercially-driven showcase
This platform was founded by designer and writer Richard Baird. You can find a curated selection of logos, brand identities, packaging, and graphic designs. This resourceful blog can give anyone that spark needed when feeling stuck.
There are also reviews, news, and opinions from Richard Baird himself.
What makes it unique:
The daring logo section
Industry insights to keep you up-to-date
The BP & O Extended membership that offers extra features
A project focused on the contribution of women in graphic design.

This blog was a part of Tori Hinn's degree project – which is another great source of design inspiration. Composed of many voices, minds, and disciplines:

"Women of Graphic Design celebrates the contributions that women have made to graphic design, both past, and present. The site aims to address the lack of public female role models in design, illuminate the ways women have historically contributed to the development of the industry, and build a network of resources that highlight other projects related to gender, design, and diversity."
What makes it unique:
The design of the home page serves as a visual aid to skim through the highlights
An ample selection of multiple design styles
Purposely-driven curated works
Bonus: Other Insightful Sites to Explore
The following websites didn't make it to the list, but they're also packed with awesome graphic design examples and inspirations from amazing artists:
Rasmussen University Design Blog
Conclusion: Get Inspired to Learn Graphic Design
Now, go and start exploring what other artists are doing, get inspired, and start creating.
Remember:
One important step for learning graphic design is to develop your own visual vocabulary so that you can express ideas in the most effective, beautiful way.
Also:
Emulating is not copying! Emulate what other people are doing and you'll see how quickly you'll be able to visually express yourself in your own style and approach.
MY NEW BOOK
The Accelerated Graphic Designer
A Proven Shortcut for Learning Graphic Design Once and For All
Stop wasting time learning unnecessary skills from random tutorials and start learning what matters the most in design.