If you are considering becoming a professional graphic designer, showing your best work to prospective clients or employers is a crucial step.
A portfolio gives tangible proof that you are, in fact, a graphic designer. It also demonstrates your design skills, style, and level of proficiency in a convenient, easy-to-understand way.
As a beginner, it can be difficult to know how to create and what to include in your graphic design portfolio.
So:
What should you include in your graphic design portfolio?
These are the main 7 elements to include in your portfolio:
Compelling "About" Section
Education, Experience, and Skills
Your Best Work
Examples of Different Formats
Your Style and Personality
Contact Information
Job Requirements
If you are a student or beginner, you can still create an outstanding portfolio that will get you started as a professional graphic designer.
Let's look at these elements in more detail.
What Should Your Graphic Design Portfolio Include?
As a recent graduate or beginning graphic designer, what you include in your graphic design portfolio is critical in jumpstarting your design career.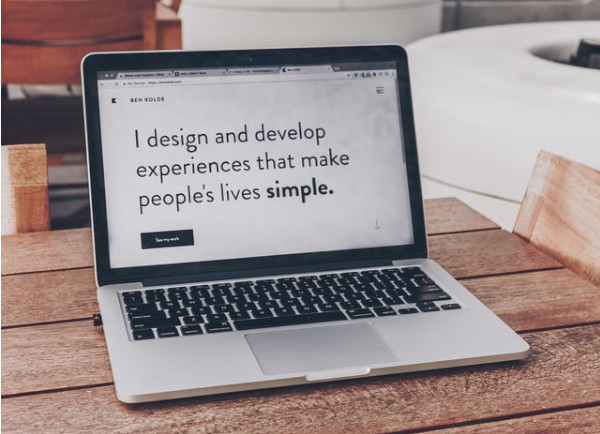 Think of your portfolio as a presentation of your skills and past work. You want to showcase all the cool things you've done and your value to a potential client or employer.
What should you include in a graphic design portfolio?
Here are the main 5 elements any graphic design portfolio should include:
1. A Compelling "About" Section
Include a short biography that serves as a letter of presentation and intent to a client or prospective employer highlighting who you are, your particular skills, and professional strengths.
If you don't have much experience, this is a great opportunity to highlight desirable attributes, such as your attention to detail or your ability to learn quickly.
Check out how Naisha Alcera, even as graphic design student, is able to convey a sense of professionalism, passion, and skills in just a few short paragraphs: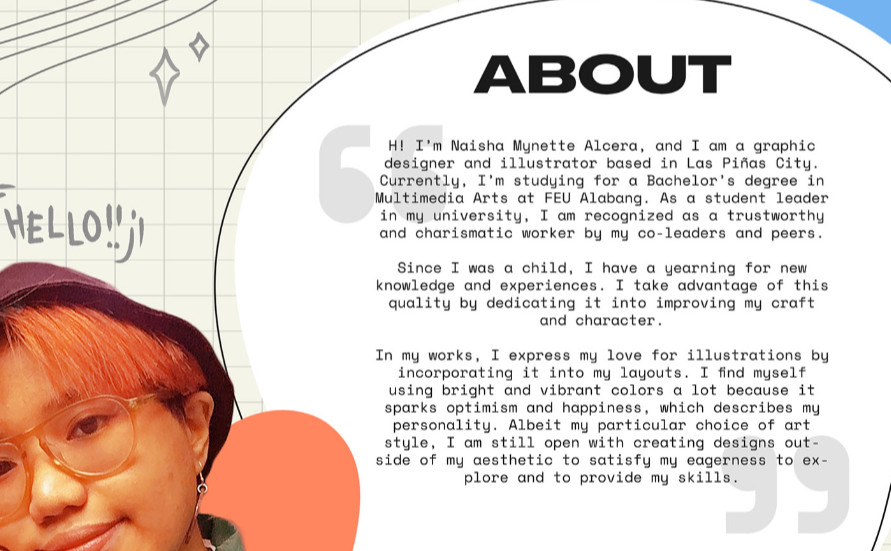 Also:
Be sure this section is well-written, as it will demonstrate your communication skills.
2. Education, Experience, and Skills
A graphic design portfolio not only shows your work, but actually serves as your resume. Be sure to include and highlight your education, experience, and skill level.
Be honest about where you're at, but also be persuasive in how you present your information.
For example, Anastasiia Nikonova presents her skills in an easy to grasp, visually compelling way:
3. Include Your Best Work
Show off the work you're most proud of. Include anything that showcases the amazing work you've done. It doesn't have to be a past project for a client; it can be a passion project too or even some practice exercises you're proud of.
If you are a student, you can include class projects or exercises that demonstrate your skills in an accurate, convincing way.
Naisha, for example, includes in her portfolio personal as well as school projects:

Pro-tip: If you have data points or positive reviews from former clients or peers, be sure to add them.
4. Examples of Different Formats
If you can, include work that shows you are proficient in the main graphic design formats, such as logos, icons, flyers, or websites.
You don't have to be good in all of the formats. You only have to show that your design toolkit is varied.
For example, if you're good with vector software such as Illustrator, then probably are fluent in logo, icon, and background designs.
If your forte is Photoshop, show image retouces and manipulations.
The more varied your skills, the more desirable you'll be as a designer.
Also:
This will show that you are up-to-date with any of the latest design trends. Demonstrate that your approach to design is on par with what people are doing in the wild.
5. Target the Job Requirements
Be sure to consider all the requirements in the job posting. You'll probably need to tweak your portfolio to tailor it to each job opening you apply for.
If you're not applying to a particular job or you're sending your portfolio to different prospects, examine what people are looking for in graphic design job openings and job requests.
You can do this by going to job marketplaces such as Indeed, 99Designs, or Fiverr. Try to figure out what the "average" job requirements are and tailor your portfolio to that.
6. Include Your Style and Personality
Personalize your portfolio in a way that makes your style shine. Demonstrate you can tackle current design trends but make sure that your signature style is showcased. This will give you a unique edge.
If your style is "grunge" or dark, be grunge! If, on the contrary, your style is elegant and refined, go for it.
Remember: You want to be able to produce work you're comfortable with and you want to work with clients who understand this.
7. Contact Information
Provide multiple ways for a prospective client to get in contact with you.
Providing your email and phone number is a great way for people to reach out. However, be sure to also include social media handles on Instagram or Twitter, for instance.
In this day and age, many people prefer the safer approach of just sending you a personal message in order to start a conversation.
Graphic Design Portfolio FAQs
Here are some quick answers to people's most common questions about creating their graphic design portfolio:
What Is a Graphic Design Portfolio?
A graphic design portfolio is a visual presentation of your body of work. It showcases your design career trajectory and gives a potential client or employer an idea of what you're capable of creating in the future.
What Is Expected in a Graphic Design Portfolio?
Your graphic design portfolio should have a collection of your best design projects that shows your strongest design skills and ideas. It should reflect who you are and what you want to be known for as a designer.
How Many Projects Should I Have in My Graphic Design Portfolio?
Your graphic design portfolio should include at least five of your strongest projects. You should detail each project in a case study format, including your role, the thought process and goal going into the project, and how you arrived at the result.
Graphic Design Portfolio Examples
Now that you know what a graphic design portfolio is and what it should include, you ask yourself, how do I start a graphic design portfolio?
A good start is to look at other graphic designers' portfolios for inspiration. Here are some examples to get you inspired:
Cody Repport is a Senior Graphic Designer at Instacart. His graphic design portfolio is a clean and simple view of his past work as an intern at Uber and Intuit (both renowned companies) to passion projects in Photography.
Why it Works
I chose this design portfolio because it shows great depth into each project he's worked on. He explains what the key takeaways are in each of them and what his greatest learnings were. The web design and illustration complement his experience and help convey his passion.
A great example of a portfolio having a resume-like feel, is Design Director for Ensemble and Chair for Ensemble Non-Profit, Simone Hummel's collection. The portfolio is simple yet emphasizes the projects she wants to bring the most attention to.
Why it Works
This design portfolio made it to the list because it is a great reference any creative can use to showcase their best work. The play on colors is also clean and on-brand for Simone – a perfect example of using a portfolio to express your style.
This portfolio portrays a great balance between being playful and clean. Designer Morag Myerscough has an overall portfolio aesthetic focused on use of color and imagery.
Why it Works
What's great about this portfolio is its clarity on the designer's focus and how they communicate that design style. The designer includes brief descriptions and the design that explains their experience working on the project and personal philosophies.
Graphic Designer, Heather Shaw's graphic design portfolio is an example of how to best showcase a diverse background of design work. Her work includes website design, branding print, and book design.
Why it Works
This design portfolio is best for those who have worked in many design roles and projects. It's a beautiful example of how to seamlessly integrate multiple projects that cohesively showcase a personal style. The website is structured in a way that's easy to navigate and get in touch with the designer directly.
Some graphic designers, like Mohamed Samir, may choose not to create a graphic design portfolio website. Instead, they opt to showcase their work on sites like Behance, which allow you to write up a great bio and have an online presence without creating a website.
Why it Works
I love how this design portfolio gets creative on best using platforms like Behance while maintaining high-quality design work. It focuses on the designer's strengths, such as typography, visual communication, and print design.
Best Graphic Design Portfolio Tools for Beginners
You know what a graphic design portfolio should include and you've seen some examples to inspire you.
Now, how do you get started?
First, you need to get familiar with a tool that'll allow you to build your portfolio.
The following are graphic design portfolio tools that are great for any beginner and even used by more experienced designers:
Adobe Portfolio is a great option to build your portfolio and have it hosted with your domain name. It also features integrations with Behance should you create your website. They also have graphic design portfolio templates you can customize.
Adobe Creative Cloud can be referred to as the go-to in graphic design work. Applications include Photoshop (graphic design ), Illustrator (vector imaging) and Premiere Pro (video editing). With a subscription to Adobe Creative Cloud, you have access to many more applications to cover your needs for your graphic design portfolio and any design work.You may be eligible for up to a 50% discount if you are a student.
A great alternative to Adobe Portfolio is Squarespace – an easy-to-use website builder. You can leverage the graphic design portfolio templates available and add your styling and design work.
Sketch is a vector graphic design editor that has proven to be a great alternative to Photoshop. It's a great tool for creating logos, graphics, and design layouts – perfect for creating the elements needed for your own portfolio.
Behance is a great place to showcase your work without building a website. It is a social network for designers and a great alternative to website builders. Make sure to write a great bio and show your work in the best image resolution possible.
Conclusion: Start Creating Your Portfolio Right Now
Now that you have a clear idea of how to create our portfolio and what to include in it, you have to take the next crucial step, which is crying yours.
Remember, these are the most critical points:
Include the main components in your portfolio, which include a compelling "about" section; your education, experience, and skills; your best work; examples of different formats; your style and personality; contact information; and considering job requirements.
You don't have to have had prior clients to create an effective portfolio: Include personal work or academic projects that showcase your skills and proficiency.
Look at portfolio examples from other designers to get ideas and be inspired.
Use effective tools to create a portfolio that will stand out.